Mango Hill Cottages & Hill Of Promise Winery
Complimentary Breakfast
Private Cottage
Double From $150 Per Night
Free Wine Tasting!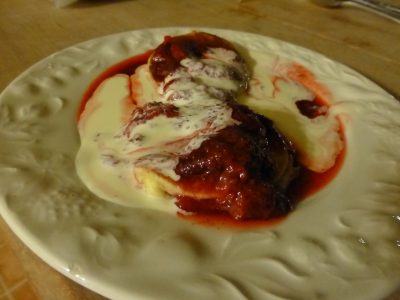 Who can resist them…. plump, bright red and aromatic to boot!  We're talking  Strawberries of course and they are at their peak  right now. The Little Cellar Rat picks hers up from ALLOWAY FARM MARKETS. You can't beat them sliced with yoghurt for breakfast, or mixed with banana, pears or whatever else is your favourite mix for a salad.  Why not make a batch of BIG PANCAKES for a relaxing Weekend Brunch and add those sliced strawberries and a drizzle of honey. Some seconds landed in my lap this week…. just the thing for POACHED STRAWBERRIES w VANILLA & ROSEWATER.  Yummm…….!!!!!
The Perfect Stop-Over Point to
Explore South East Queensland
Located at our winery - Hill Of Promise!
Situated half-way between Brisbane & Rockhampton
40 minutes to Bundaberg
50 minutes to Maryborough
30 minutes to Woodgate beach
60 minutes to Hervey Bay & Departure points for Fraser Island & Lady Elliott Island
2.25 hours to 1770 - The departure point for Lady Musgrave Island