Hill Of Promise Winery & Cellar Door
COVID SAFE UPDATE JULY 2020
Hill of Promise is a boutique winery and cellar door, offering a true 'grape to glass' experience and is the perfect holiday attraction while visiting the area.
Wine tastings  offered to individuals are FREE at the cellar door, which is part of the verandah of our 'over the  century-old' Queenslander.
We ask that you do not visit us if you have been in contact with anyone with COVID19 in the past 14 days or if you or a family member is unwell.
PLEASE NOTE:   BNB ACCOMMODATION NOT AVAILABLE ATM
Once the BNB is open again for bookings, why not take advantage of our Bed and Breakfast Cottages, only a few metres from the Cellar Door. Take a look at our private Bed and Breakfast accommodation near Childers - Mango Hill Cottages.
One of Queensland's Best Kept Secrets!
WINES PRODUCED ONSITE – AND PRESERVATIVE FREE!
VEGAN FRIENDLY... no egg, milk or fish products used in filtering
FREE WINE TASTINGS FOR INDIVIDUALS AT CELLAR DOOR
OPEN 7 DAYS PER WEEK BETWEEN 10AM – 4PM [but phone to save disappointment]  Check out our NEWS website page of FB Hill of Promise Winery for daily opening hours.
RUSTIC SCENERY AND  a large old country garden for a calming ambience
HAVE A SPECIAL ORDER AND NEED TO PICK UP OUT OF HOURS? Not a problem -  just contact Terranzo the winemaker or Maria the Little Cellar Rat 0408 875 305  07 4126 3470 mangohillcottagebb@bigpond.com
Terranzo and Maria are excited about their 2 latest releases  THREE MEN AND THE MOON 2017 Cab Sav/ Shiraz  and    3 MARYS SPARKLING MUSCAT .....  Go to our WINES PAGE for more details.
Hill Of Promise Winery
Proud to be a family owned and operated boutique winery and Cellar door. We ensure every bottle has no additives or preservatives, keeping with an "old world" style used for centuries. Our love and passion for wine making shows in every bottle and we have the awards to back it up.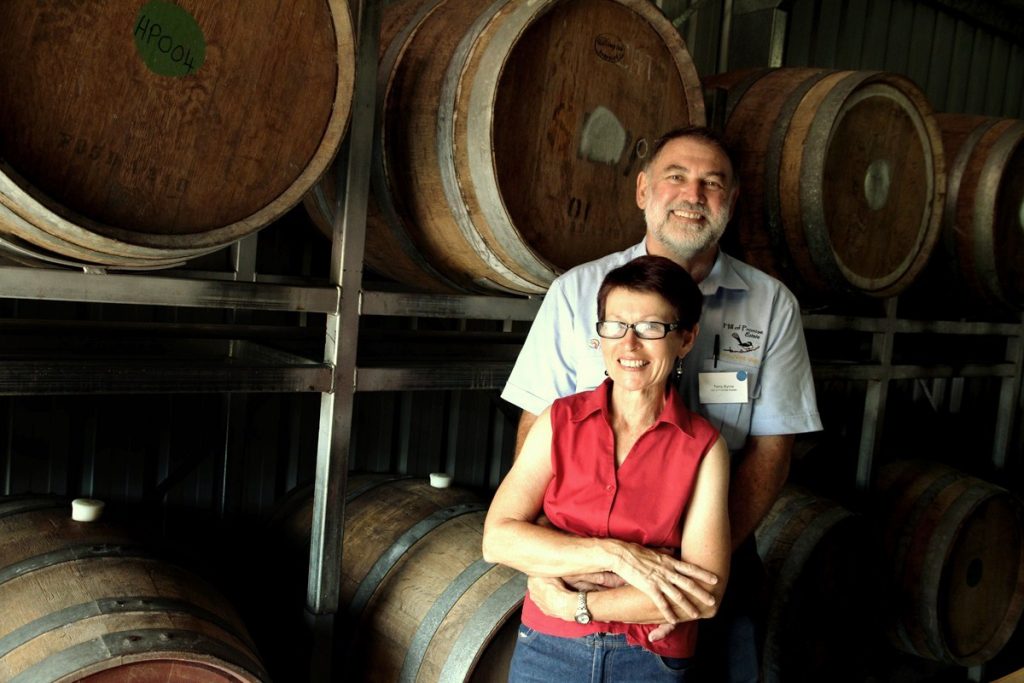 All our wines are produced right here at the Winery. A process like this allows us to control the crushing, fermenting, racking, filtering, aging, bottling and labelling. This way we know exactly what goes into every drop and, more importantly, what does not!
We offer a wide range of wines, from whites and reds through to fortifieds and sparkling, all made with love and care by our expert winemakers, Terry & Mary Byrne
Terry's passion comes from his proud Sicillian heritage. His maternal grandparents, Umberto and Maria Gelsomino were migrants to the Isis district from the Catania region of Sicily in the early 1900's. Food, cooking and the enjoyment of wine as a natural accompaniment to food and family occasions have been part and parcel of family tradition.
So why not come and see us here at Hill of Promise, get the very personal 'grape to glass' experience and meet the winemakers behind the wine? Who better to explain to you what food goes with the wine and the process behind it than the people who make it? Judging by the laughter emanating from the cellar door, guests are participating in what we aim at - a fun experience and what's more, tastings for individuals at the cellar door are FREE!!
Under the Liquor Act 1992, It is against the law to sell or supply alcohol to, or to obtain alcohol on behalf of, a person under the age of 18 years. For more specific legislation visit our Liquor Licensing Acts page
The Perfect Stop-Over Point to
Explore South East Queensland
Located at our winery - Hill Of Promise!
Situated half-way between Brisbane & Rockhampton
40 minutes to Bundaberg
50 minutes to Maryborough
30 minutes to Woodgate beach
60 minutes to Hervey Bay & Departure points for Fraser Island & Lady Elliott Island
2.25 hours to 1770 - The departure point for Lady Musgrave Island